Description: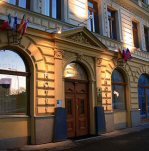 Prague Centre is a new hotel, which has recently been open.

It is situated in a six-storey building from the beginning of the last century.

This Hotel Prague is being recommended for individuals as well as for groups.






Location:
The hotel is conveniently located in the residential district very close to the city centre. The hotel is facing a busy street, however the soundproof windows will protect you from the traffic noise, which is in the central located buildings quite common. The nearest metro station or tram stop is within few minute walk from the hotel. The journey to the centre lasts 5-10 minutes.
Room Description:
The hotel can offer accommodation for up to 70 guests. The rooms are bright new, clean and comfortable, furnished in a standard way. All the rooms have private facilities and a TV set.

Price includes breakfast.