Description: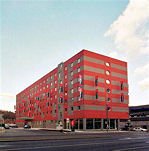 The Ibis Smichov is completely new, and designed with the needs of the modern traveler in mind.

The lobby is brand new, lifts, windows - everything down to the last detail is working perfectly, so you can relax and enjoy your stay in the beautiful city of Prague.

It's well suited for every kind of traveler: those who want comfort and good service in Hotels in Prague, and those who enjoy being near the action.



Location:

Novy Smichov is an up and coming area of Prague - so there are many great opportunities for shopping, eating and entertainment. Right next door, you will find Andel - a major shopping centre. Andel is also home to a metro station (underground), which transports you to the historical centre in just a few minutes. It's easy to access from the highway, as well, and therefore perfect for guests with their own car.

Distance from major attractions:
Wenceslas Square: 2.5km
Old Town Square: 3.0km
Charles Bridge: 2.0km
Prague Castle: 2.5km

Room Description:
Each of the 226 rooms has rugs and comfortable, new furniture. All the equipment that comes standard with the rooms is also just out of the box, such as the satellite TV, the direct dial phone and the minibar. You will have a safe to store valuables in. There are non-smoking rooms and several rooms also set up in a barrier-free way, for the ease and comfort of wheelchair users

Check-in: 14:00
Check-out: 12:00
Price includes breakfast.