Description: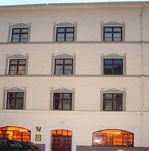 A new small family hotel located near the centre, Hotel Columbo offers accomodation in stylish 2 to 5 bedded rooms (40 beds). All rooms are equipped with colour satellite TV and phone. Each room has own bathroom with shower and wc. Only 7 minutes by tram to Wenceslas Square.








Location:

The City centre can easily be reached on foot (about 25 minute walk) ot by tram (stop located 5 minute walk from the hotel).

Distance from major attractions:
Wenceslas Square: 1.5km
Old Town Square: 3.5km
Charles Bridge: 4.0km
Prague Castle: 5.0km




Hotels in Prague Room Description:

Children under 6 years free of charge when staying with adults without child cot. Children between 6 and 12 stay at 20% discount fo a normal room.

Service like exchange office, refreshment, souvenirs, laundry, ticket and sightseeing tours reservations are available for 24 hours daily at front office. It is possible to spend the evening in the restaurant Meduzzy at the same building. The restaurant is opened daily from 11.30am to 11pm it offers specialities from Greek and Italian dishes.

Check-in: 14:00
Check-out: 11:00


Price includes breakfast.
Parking available at 250CZK (€8) per day.
Children up to 3 years old free with 2 adults in the room.
Children 3-12 years old 12 EUR supplement.